Keto Grocery List
New to keto? Here are some staples you'll want to get when starting Keto. You don't need all of these, but most of these are always in my kitchen.
Meats/Protein
Steak
Ground Beef
Chicken
Bacon
Sausage
Eggs
Pork
Turkey
Deli Meats (check for added sugar)
Seafood (clams, shrimp, oysters, mussels, crab, lobster, fish, scallops). Avoid fake crab! It's all carbs.
Fats
Coconut oil, ideally organic, and unrefined and cold-pressed
Butter, ideally grass-fed
Lard and/or Tallow
Extra Virgin olive oil
Dairy
Cream cheese
Heavy whipping cream
Cheeses
Sour Cream
Parmesan Cheese
Veggies
Leafy greens (spinach, swiss chard, romaine lettuce, butter lettuce, kale, collard greens, etc)
Broccoli
Cauliflower
Green Beans
Avocado
Asparagus
Zucchini
Cucumbers
Squash (Yellow, Spaghetti, Acorn)
Onion
Garlic
Celery
Mushrooms
Baking Goods
Spices, Etc – Avoid premade seasoning mixes! They are full of sugar and other junk, not to mention ridiculously over-priced for what they are.
Black pepper
Onion powder
Garlic powder
Paprika
Cayenne pepper
Cumin
Herbs, dried or fresh, such as thyme, oregano, parsley, tarragon, sage, rosemary, & chives
Condiments/Sauces
Worcestershire Sauce
Mustard
Mayo (no sugar added, such as Duke's)
Marinara Sauce – One with no soybean oil or added sugar, such as Rao's.
Alfredo Sauce – One with no soybean oil, such as Gia Russa.
Other
Pickles (unsweetened)
Pork rinds
Almond butter (no sugar added)
Almonds and/or other nuts such as walnuts, pecans, brazil nuts (note: peanuts are not keto)
Coffee
Unsweetened Almond Milk
Something that can satisfy the sweet craving, such as a Keto Kookie
Fruits – I do not recommend these the first few weeks while you adapt to Keto, as even the small sugars in keto-approved fruits can trigger cravings
Strawberries
Blueberries
Blackberries
Raspberries
All other fruits are not keto-friendly
Feel free to browse my recipes to see some ideas of what you will cook this week, and plan ahead.
Looking for quick snacks? I also highly recommend subscribing to an awesome monthly keto subscription box, such as Keto Krate. You can even use my coupon code KETOPLATES to get 25% off. Sometimes this code even gives BOGO.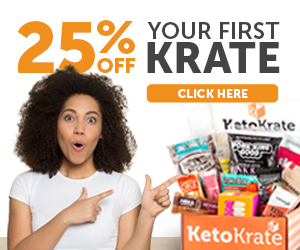 Grab your discount to KetoKrate monthly subscription keto snack box with coupon discount code KETOPLATES
#ketokratemonthly